We are a fun loving, hard-working team who strive for excellence and quality in all that we do.
We're a bakery with a real heart, because we know that there is so much more than the cakes…..
there is trust, loyalty, commitment, caring… and there is love….
Love for what we do and love for each other. We're a family committed to succeed.
Popcakes started in 2013 as a two-lady team baking decadent, different and delicious cakes and sweet treats in the heart of Gail's home,
and has rapidly grown into to a strong spirited team operating from a factory in Manufacta Roodepoort,
servicing customers all over South Africa in the hospitality and retail industries.
We are focused on doing it right. The right team, the right products and the right attitude.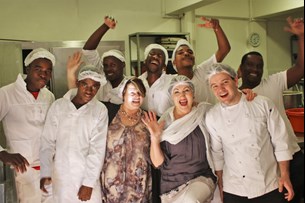 The Crazy Team