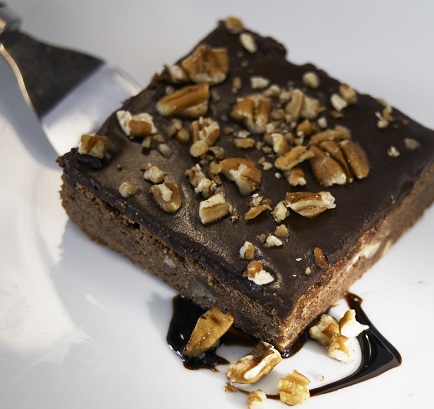 A decadent nutty brownie topped with chocolate ganache, with a layer of  Pecan Nuts splashed with chocolate.
STORAGE :  This product requires refrigeration and is suitable for freezing. Best eaten within 21 days of production if not stored in the freezer
PREPARATION : Once defrosted, the Nutty Brownie is ready to be consumed. It may be warmed in the microwave for 10 - 15 seconds to soften the chocolate ganache. 
SERVING SUGGESTION :  Serve just as is or with ice cream. 
INGREDIENTS :  Flour, Icing Sugar, Chocolate, Milk, Eggs, Peanuts,Cream
ALLERGENS :  Dairy, wheat, eggs, Tree Nuts, Nuts
Brownies available in boxes of 24.